Green Dragon is a historic restaurant experience and museum inspired by the original 18th century Green Dragon Tavern in Boston. Coined by Daniel Webster as the "Headquarters of the Revolution", the original Green Dragon Tavern served as the general meeting place and think tank for events that would eventually shape our great nation to this day. Over two centuries ago, Samuel Adams, Dr. Joseph Warren, Paul Revere and other notable Founding Fathers met in secret at Green Dragon Tavern to discuss significant events and organize calls to action. Used as both a tavern and meeting space, the Sons of Liberty, Boston Committee of Correspondence and the Boston Caucus met to assess and respond to issues faced by a growing nation and its people under tyrannical rule.
The Green Dragon Tavern & Museum is one of Carlsbad's most unique and iconic venues. Upon entering our tall white doors, guests enter the brick-built building where the multiple forums which create this phenomenon reside. With many different rooms to choose from, guests love to explore our free-admission museum, where visitors gain an understanding of our country's early architecture, historical artifacts, and culture. Our more secluded spaces where private events are held are special spaces which exude grace and comfort, as they provide a classic East Coast elegance of wooden floors, cherry wood wainscot, and brass chandeliers. Food takes the spotlight as guests become its audience. Our highly acclaimed  East Coast Flare restaurant offers elements such as music, lighting, artwork and spacing combined to create a comfortable environment where people love to relax and enjoy their time. Our notable menu items that are a must-try include our famous barrel-aged old fashioned and our several lobster roll variations. Our guests enjoy touring our corridors and museum with a glass of their favorite craft beer or wine. Families cherish the opportunity to transform a dinner into a fun educational opportunity for their children. 

When we recreated this historic building, we wanted to give our guests a tangible space that can offer a glimpse into the colonial American experience right here on the West Coast. And what better place than beautiful Carlsbad, California? The classic and historic aura of the restaurant creates a one-of-kind atmosphere that will take you back to a much simpler era. Due to this, our restaurant has hosted countless weddings and events, centered around creating an inclusive social dining experience where everyone is welcome.
Great friendly service! Food is also very good – went twice during our stay in Carlsbad! Enjoyed our time and enjoyed the historic records they have on the revolutionary war!
Cheryl P.
Our family had the best time here and the food at the tavern is outstanding. Extremely friendly service, quality culinary experience and a truly unique setting makes you learn about our country's founding. Can't recommend highly enough
SF DANN
Fantastic venue and excellent food!
Fred J.
The waitress and manager we're above and beyond excellent. Outstanding food and wonderful atmosphere
Dan M.
A classy spot. It has that colonial feel to it. They have impressive house cocktails. The only food I've had here was the New England clam chowder and it's to die for. One look at the menu though and you'll see a pretty solid food selection to choose from.
Robert S.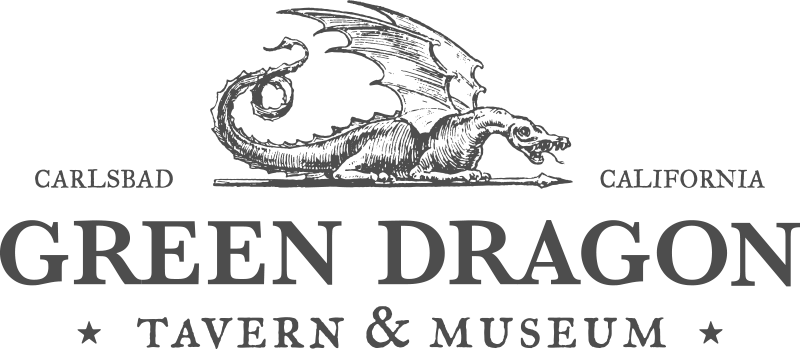 Our 501-c3 foundation provides document based exhibits presenting an autograph collection of our favorite celebrities – our founders – including the signatures of John Hancock, Sam Adams, John Adams, and additional signers of the declaration of independence and our constitution on documents of various interests and significance. Our museum opens a window into the past which allows visitors too explore our countries roots, while surrounded by timeless antiquites of Colonial America.
Where is Green Dragon located?
Green Dragon Tavern & Museum is located in Carlsbad. We are near Legoland and the Flower Fields.
How do I purchase a gift card?
You can buy a gift card directly through our website by clicking HERE.
How can I return or exchange my gift card purchased?
Unfortunately we do not accept returns or exchanges for our gift cards.